Genfare Link, a comprehensive, digital fare management platform, is now a three-time, award-winning platform. In partnership with the Capital District Transportation Authority (CDTA), the platform was recently recognized by the Intelligent Transportation Society of New York (ITS-NY), by METRO Magazine for an Innovative Solutions Award and by the American Public Transportation Association (APTA) as 2017's Best Mid-Size Public Transportation System.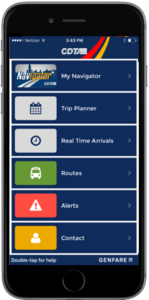 "I am so proud of our organization, our region, and our partners," said Carm Basile, CDTA CEO, in a news release. "While the APTA award wasn't possible without the loyalty of our customers, it certainly wasn't possible without our employees who work hard every day to improve the quality of life in the Capital Region, and all of our business partners who are here with us today."
CDTA's "Navigator" signifies the way their new fare system helps riders easily travel to their favorite destinations. One of the many features of the program is Genfare's mobile application, Mobile Link, which allows riders to purchase and manage fares through a user-friendly mobile ticketing app.
Earlier this year, Metro Magazine issued a story on the growing success of the CDTA's Navigator program. Click here to read the article.
Genfare Link is a suite of fully integrated, hardware and software-based solutions that allows transit agencies to manage multi-media fare collection and customer service across multiple modes of transport. It is a single-source solution to achieve complete control over fare management.
"Genfare Link's complete fare management ecosystem delivers the insights and intelligence needed to make an impact on transit operations," said Darren Dickson, President of Genfare. "Genfare Link has transformed us into an automated fare collection solutions provider—we help the public transit industry stay current with the digitization movement."
In the fare management ecosystem, new technologies significantly impact the rider experience. Hyper-connected and diverse commuters are demanding speed, convenience, and flexibility in how they pay their fares. Genfare responds with system solutions across evolving fare media to meet transit agencies' evolving needs. Through system upgrades, a new suite of services, or by investing in a fully-integrated system, Genfare can help transit providers stay ahead of the curve. Genfare, a division of SPX Corporation, is headquartered in Elk Grove Village, Illinois. To learn more, visit www.genfare.com.