In the field of underground utility, where the cost of cable and pipeline damage is high, utility locating specialists need to be able to detect the presence of all buried utilities before excavation. Radiodetection's GPR systems are designed to view buried utilities and provide utility locating specialists, surveyors and other professionals with the tools to trace and mark the positions of all types of cable and pipe including plastic and ceramic.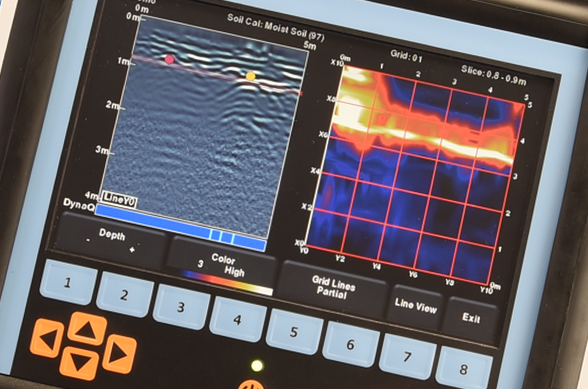 The new RD1100 and RD1500 GPR Locating Systems offer advanced functionality including built-in GPS, on-board Wi-Fi and high-resolution touch-screens. The GPS allows users to display the position of screenshots in Google Earth™ and other geo-referencing programs. Screenshots and mini-reports can be emailed via the on-board Wi-Fi or exported to a USB stick.
The RD1500 incorporates even more advanced features and options. The proprietary FrequenSee™ technology provides the benefits of multiple antennas with the quality of a single-antenna solution. Also included as standard is the ability to generate depth slices from a grid-scan of an area to provide users with an easier-to-interpret view of buried utilities. The optional Enhancement package software enables PC users to export, analyse and report on data; the Utility Suite software extends this to allow processing and displaying grid data and output to 3D visualization software. An additional RD1500 option provides external GPS for higher accuracy.
"FrequenSee gives us the advantages of three antennas in one," says Gary Simpson, Operations Manager at Geotechnical Engineering Limited in Gloucester, England, the largest privately owned ground investigation contractor in the UK. "Utility surveying is an integral part of our daily activities. The RD1500 provides the performance I'm looking for."
"Meeting our customers' requirements was paramount in expanding our latest range of GPR locating systems," according to Kevin Lench, Managing Director of Radiodetection. "Our customer drives our design innovation and our success. With the help of our skilled workforce, Radiodetection produces essential tools for use by utility workers and contractors in over sixty countries."